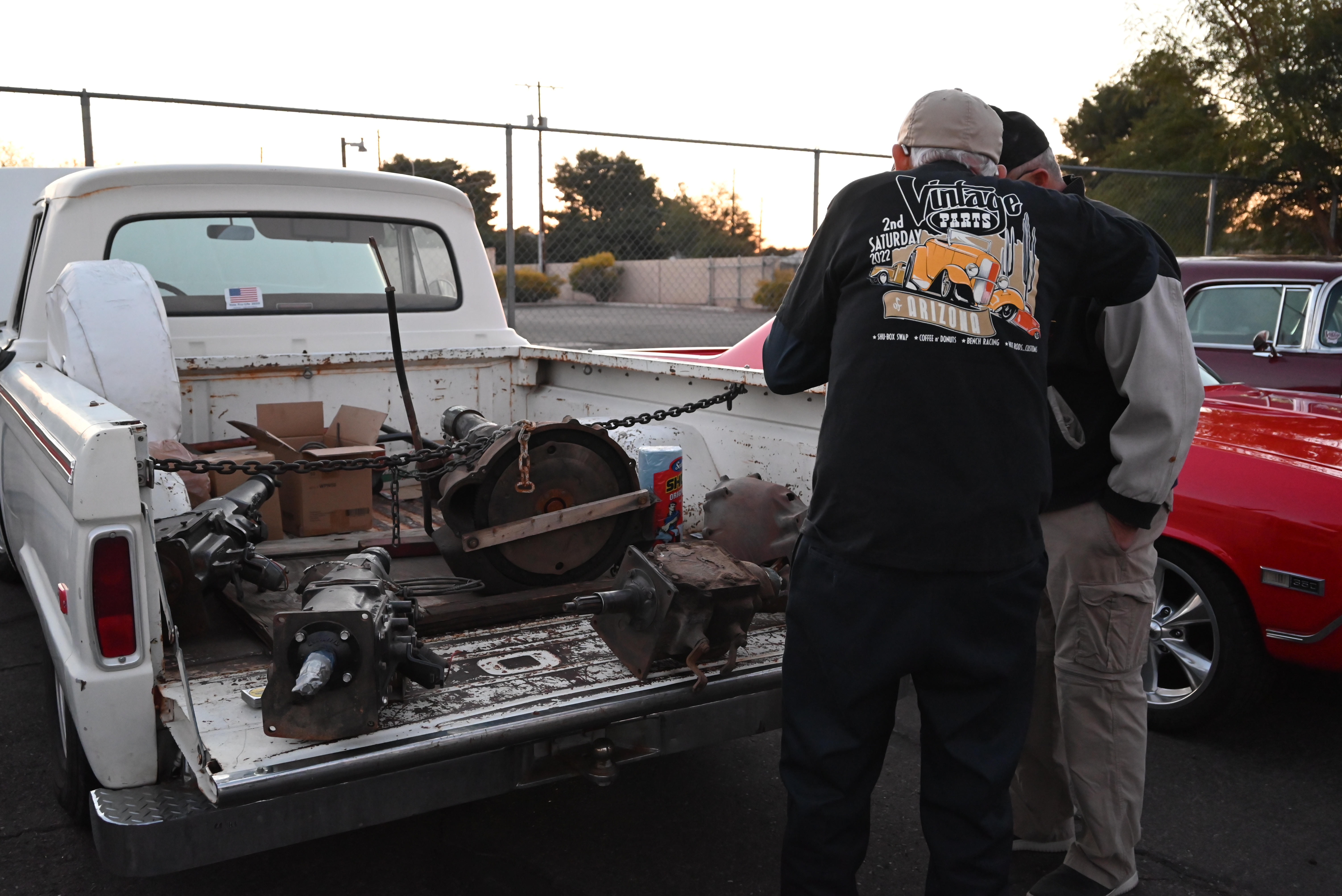 Anyone who's been to our Second Saturday shows likely recognizes the man in these photos. If you haven't had the pleasure of making his acquaintance, allow us to introduce you to Don, nicknamed "Y-block Guy" for his extensive knowledge of Y-block engines. "So, tell me about yourself." I said at the start our interview. Don casually stated, "I personally am a 1934 model." It took me a minute to catch his drift but when I caught on, I thought it was pretty clever.
Born and raised in Colorado, Don started building his first engine at the age of 14. He had no prior mechanical knowledge, in fact, he didn't even know how the gas went into the engine, but he knew if he took enough bolts out, the engine would come apart and that was a start. As sure as he took it apart, he learned the ins and out of that engine and ran 400 miles on his first build. His next project was handed down from his father. The family car had thrown a rod going down the highway and Don was eager to take it off his dad's hands and further his mechanical skills.
I asked if he had a crew or someone who knew mechanics to teach him and he said no, he was a bit of a loner but there was a local mechanic named Roy who would share tips. Don pointed out that Roy was a Model A mechanic and didn't know the much about Ford V8s but between the knowledge he gleaned from Roy and what he discovered on his own, he was moving right along.
At this point in his journey, Don is 16 when he's offered an apprenticeship at the local Ford Dealership by the owner of the dealership's wife. His job was the remove and replace guy. He'd also clean the parts. Don took advantage of his time at the dealership and when things weren't too busy, he'd look over the boss's shoulder and learn what he could. Smart guy!
When he graduated from high school, he went into the Navy. As you can guess, he ranked pretty high mechanically on his aptitude test and although they didn't need mechanics at that time, he was assigned to work as a builder. His unit built heavy equipment trucks overseas and airplane hangars.
When he got out of the service, he returned to Colorado to the Ford Dealership. It was at this time, he tells me, when the Ford Y-block engines were starting to be produced and put in brand new cars. While he enjoyed his time at the dealership, he wondered if this was as far as he'd go. After some thought, he decided to apply to go to college. As it would happen, instead of going back to school as a student, he got a phone call from the school district telling him they needed an auto mechanics teacher. And so would start his path as a teacher in 1959. He was 25 his first day in the classroom and he had 0 days of college training.
He would go on to teach for 13 years before getting tired of the cold and moving to Arizona in 1972. He soon found himself teaching Auto Shop in the local high school. He developed a program when they had done away with auto mechanics program called "in house suspension," wherein he would teach troubled students auto mechanics. He had the privilege of doing that for 13 years. From there he went to 4 years of college teaching and from there ended up in Job Corps teaching Auto Mechanics. Don retired in 2000, but if you know Don, you know he's still teaching. I asked him if he enjoyed teaching and with a big smile on his face he said, "Oh I love teaching, you know…I kind of still do to this day because the phone rings often of people asking for help." He said it's a great honor to teach and to see young people excel and do what they do.
In fact, we at VPA keep his number handy for when someone is looking for help with a Y-block engine or trying to locate parts. To finish off our interview, I asked Don what advice, if any would he have for the next generation or anyone just starting to get into hot-rodding or working on classic cars.
His response: "Try to find one group of engines or vehicles. Don't try to cover the whole field. You get too diversified and you're good at nothing. Pick one item and get good at it, if its y-blocks, build y-blocks. Learn one item very well, then it's ok to branch out and take on another item but don't take it on all at once or you'll get buried."
Good advice from an even better guy. Don will be 90 next year but you wouldn't know it looking at him. I recently bought a transmission from him, and he lifted it out of the bed of his truck like he'd done it thousands of times because well…he probably has. His buddy Chris, who also comes to our shows told me the story of how they had become friends. It was maybe 10 or so years ago, mind you Don is about 80 at this time. Chris was having trouble with his truck and asked Don for help. Don showed up at his house but due to a prior engagement, he wasn't dressed to work. He came prepared with extra clothes. He asked if he could change and before Chris knew it, Don was under his truck working on it because that's the kind of guy he is.
Don's a great example of the ripples that can be made in this community if we are willing to share what we know. Who knows how many paths he's affected or passions he's sparked. Thanks to old timers like Don, who were around when the engines and cars we love today hit the assembly line, we get to hear these stories firsthand and hopefully keep the history and passion alive! I closed out the interview thanking Don for his kindness over the years and told him how much I enjoy rubbing shoulders with so much knowledge, to which he responded "You know, all the older guys who have been doing this for so many years, I actually say we all get together and exchange ignorance."
Don Pictured with his 1964 Ford F 100 Styleside Custom Cab Short Bed, with a 292 V-8 engine.
Words by Kristina Keepers